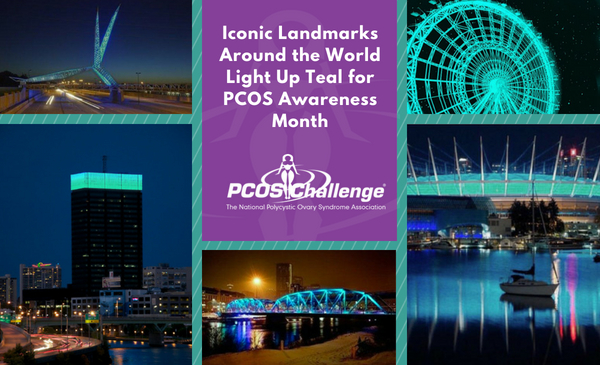 During PCOS Awareness Month in September 2022, iconic landmarks and buildings throughout the world will be illuminated teal to bring greater awareness to Polycystic Ovary Syndrome (PCOS). We encourage everyone who is near a landmark that is turning teal to gather for the event, take photos and share them on social media.

Australia | Bosnia | Canada | Cayman Islands | Estonia | Ireland | New Zealand | Norway
Philippines | Singapore | Scotland | Spain | Taiwan | United Kingdom | USA
*All lighting events happen at sunset unless otherwise noted below.
Australia
New South Wales
Newcastle City Hall Clock Tower – September 1-2
290 King Street
Newcastle, NSW 2300
*lighting from 5pm – 8am
Queensland
Moreton Bay Council – Caboolture Administration Building – September 1
2 Hasking St
Caboolture, QLD 4510
Moreton Bay Council – Humpybong Fountain Monument – September 1
Humpybong Creek Reserve
Redcliffe, QLD
Moreton Bay Council – Redcliffe Administration Building – September 1
Downs Street
Redcliffe, QLD
Sir Hielschler Bridge (Gateway Motorway Bridge) – September 1-2
Gateway Motorway
Brisbane, QLD 4000
*lighting from 7pm – 6am
South Australia
Adelaide Oval Stadium – September 1-2
War Memorial Dr
Adelaide, SA 5006
*lighting from 5:30pm – 7:00am
Victoria
Bolte Bridge – September 2-3
CityLink
Melbourne, VIC 3000
*lighting from 6pm – 6am
Soundtube – September 2-3
727 Collins St
Docklands, VIC 3008
*lighting from 6pm – 6am
Western Australia
Mindeerup – September 1
S Perth Esplanade (Mindeerup)
South Perth, WA 6151
*lighting from 7pm-1am, with a pause for usual light show at 7pm and 8pm
The Old Mill South Perth – September 1
Melville Pl (Old Mill)
South Perth, WA 6151
*lighting from 7pm-1am, with a pause for usual light show at 7pm and 8pm
Perth Concert Hall – September 1-2
5 St Georges Terrace
Perth, WA 6000
*lighting from 6pm – 1am
The Bell Tower, Perth – September 2-3
Barrack Square, Riverside Dr
Perth, WA 6000
Joondalup Drive Bridge – September 4
Joondalup Dr
Perth, WA
Matagarup Bridge – September 4
Nile Street
East Perth, WA 6004
Mount Street Bridge – September 4
Mount Street
Perth, WA
NorthBridge Tunnel- September 4
Graham Farmer Freeway
Perth, WA
Sky Ribbon Gateway Bridge – September 4
Perth, WA
Bosnia
Avaz Twist Tower – September 1-2
Tešanjska 24A
Sarajevo, Bosnia & Herzegovina, Bosnia 71000
*lighting 8:00 PM to 7:00 AM
Canada
Alberta
Arts Commons – September 8
205 8 Ave SE
Calgary, Alberta T2G 0K9
Calgary Tower – September 14
101 9 Ave SW
Calgary, Alberta T2P 1J9
Olympic Plaza – September 8
228 8 Ave SW
Calgary, Alberta T2P 2M5
Reconciliation Bridge – September 16
Reconciliation Bridge Memorial Drive and 4 Street NE
Calgary, Alberta
British Columbia
Fountain at Lafarge Lake – September 1
Coquitlam Centre Shopping Mall
Town Centre Park
Port Coquitlam, BC V3C 2A8
SkyTrain Light Pillars – September 1
PineTree Way
Port Coquitlam, BC V3C 2A8
New Orleans Jazz Museum – September 1-2
400 Esplanade Avenue
New Orleans, LA 70116
Vancouver Lookout Tower at Harbour Centre – September 1-2
555 West Hastings Street
Vancouver, BC V6B 4N6
*lighting from 7pm – 6am
Burrard St Bridge- September 2
Burrard St
Vancouver, BC V5Y 1V4
*lighting from dusk to midnight
Canada Place Sails of Light- September 2
999 Canada Pl
Vancouver, BC V6C 3E1
*lighting from dusk to dawn
Maple Ridge City Hall- September 2
11995 Haney Place
Maple Ridge, BC V2X 6A9
Vancouver City Hall- September 2
453 West 12th Ave
Vancouver, BC V5Y 1V4
*lighting from dusk to midnight
BC Place- September 4
77 Pacific Blvd
Vancouver, BC V6B 4Y8
Vancouver Convention Centre- September 4
1055 Canada Pl
Vancouver, BC V6C 0C3
Fitzsimmons Creek Bridge – September 13
Whistler, BC
Manitoba
Winnipeg Sign at the Forks – September 3-4
Forks Market
Winnipeg MB R3C4L8
*lighting 6pm – 6am
Nova Scotia
Halifax City Hall – September 8
1841 Argyle Street
Halifax, Nova Scotia B3J 3A5
*lighting 7pm – 6am
Ontario
Brant Street Pier – September 1
Spencer Smith Park
Burlington, Ontario L7S 1Y2
Niagara Falls- September 1
6650 Niagara Parkway River Rd
Niagara Falls, Ontario
*lighting from 10:45-11pm
Watch the Live Cam: https://www.earthcam.com/canada/niagarafalls/?cam=niagarafalls_str
3D Toronto Sign – September 1
100 Queen St W
Toronto, Ontario M5H 2N2
*lighting from dusk to dawn
Welland Bridge #13 – September 1
60 E Main St
Welland, Ontario L3B 3X4
CN Tower – September 3
301 Front St W
Toronto, Ontario M5V 2T6
Hamilton Signature Sign – September 3-4
71 Main St W
Hamilton, Ontario L8P 4Y5
*lighting from 7pm – 8am
RBC Place London – September 14
267, Dundas Street
London, Ontario N6B 1Z2
JA Taylor Building at Wellington and Dundas – September 14
267, Dundas Street
London, Ontario
London City Hall – September 14
300 Dufferin Ave
London, Ontario N6B 1Z2
Sifton Properties on Dufferin – September 14
195 Dufferin Ave
London, Ontario N6B 1Z2
Cayman Islands
Grand Cayman
Camana Bay – September 1
Esterley Tibbetts Highway
George Town, Grand Cayman, KY1-1010
*lighting 5pm – 10pm
Estonia
Tallinn TV Tower – September 1
Kloostrimetsa tee 58 A.
Tallin, Estonia 11319
*lighting from 9pm – 8am
Ireland
Kilkenny
Kilkenny Castle – September 1
The Parade
Kilkenny R95K6P5
*lighting from 10pm – 2am
Leinster
Convention Centre Dublin – September 1
Spencer Dock
North Wall Quay
Dublin 1 D01 T1W6
Munster
Limerick City & County Council Corporate Headquarters – September 1
Merchants Quay
Limerick, Munster
V94 EH90
New Zealand
Michael Fowler Centre – September 1-2
111 Wakefield St
Te Aro, Wellington 6011
*lighting from 6pm -5am
Christchurch Airport Terminal & Airways Tower- September 12-15
30 Durey Road
Harewood, Christchurch 8053
Norway
Rockheim – September 1-2
Brattørkaia 14
Trodenheim, Trondelag 7010
*lighting from 7 PM – 5 AM
Philippines
SM Mall of Asia Globe – September 15
Mall of Asia Complex,
Pasay City, Metro Manila, PH 1300
*lighting from 7pm – 8pm
Singapore
Science Centre Singapore – September 1
15 Science Centre Rd
Jurong East 609081
Scotland
Edinburgh International Conference Centre – September 1
150 Morrison Street, The Exchange
Edinburgh EH3 8EE
*lighting from 5pm – 11:59pm
The Kelpies at Scottish Canals – September 1-2
Visitor Centre
The Helix
Grangemouth, Falkirk FK2 7ZT
Mackay's Hotel – September 1
Union St.
Wick, Caithness, KW1 5ED
*lighting from 12am – 12pm
Spain
Valencia City Council – September 1
Town Hall Square
Valéncia, Spain 46002 and 46003
*lighting from 9pm – 10pm
Valencia Sea Gate – September 1
Sea Gate Square
Valéncia, Spain 46002 and 46003
*lighting from 9pm – 10pm
Taiwan
Farglory Financial Center- September 1
No.1, Songgao Road.
Xinyi District, Taipei 110
*lighting from 6pm – 9pm
United Kingdom
Brighton Palace Pier – September 1
Madeira Drive
Brighton, E. Sussex BN2 1TW
Beacon of Light – September 1
Stadium Park
Sunderland
*lighting from sunset- 11am
Bradford City Hall Clock Tower – September 1
Centenary Square
Bradford, West Yorkshire, BD1 1HY
Royal Border Bridge – September 1
River Tweed, Near the Castle and Station
Berwick-Upon-Tweed, Northumberland
Tower 42 – September 1-3
25 Old Broad Street
London, EC2N 1HQ
Spinnaker Tower – September 4
Gunwharf Quays
Portsmouth, Hampshire PO1 3TT
*lighting from 7pm – 11pm
York City Walls – September 23
City Walls between Toft's Tower and Barker Tower
York, YO1 7LJ
United States
Alabama | Alaska | Arizona | California | Connecticut | Delaware | Florida | Georgia | Iowa | Illinois | Indiana | Kansas | Kentucky | Louisiana | Maryland | Massachusetts | Michigan | Minnesota | Missouri | Nebraska | Nevada | New York | North Carolina | Ohio | Oklahoma | Oregon | Pennsylvania | Rhode Island | South Carolina | South Dakota | Tennessee | Texas | Virginia | Washington | Wisconsin | Wyoming
Alabama
RSA-Activity Center – September 1
201 Dexter Ave
Montgomery, AL 36104
RSA-Alabama Center for Postsecondary Education – September 1
135 South Union Street
Mobile, AL 36602
RSA-Alabama Center for Commerce – September 1
401 Adams Ave
Montgomery, AL 36104
RSA-Battle House Tower – September 1
11 N Water St
Mobile, AL 36602
RSA-Criminal Justice Center – September 1
301 South Ripley St.
Montgomery, AL 36104
RSA-Dexter Avenue Building – September 1
445 Dexter Ave
Montgomery, AL 36104
RSA-Headquarters – September 1
201 South Union St
Montgomery, AL 36104
RSA-Helen Hunt Learning Center – September 1
300 Monroe St
Montgomery, AL 36104
RSA-Pavillion Park – September 1
355 Monroe St
Montgomery, AL 36104
RSA-Plaza – September 1
770 Washington Ave
Mobile, AL 36602
RSA-Tower – September 1
201 Monroe St
Montgomery, AL 36104
RSA-Trustmark Building – September 1
107 St. Francis Street
Mobile, AL 36602
RSA-Union – September 1
100 North Union St
Montgomery, AL 36104
RSA-Van Antwerp – September 1
101 Dauphin Street
Mobile, AL 36602
Alaska
JL Tower – September 1
3800 Centerpoint Dr
Anchorage, Alaska 99503
*lighting from 8pm – 7am
Arizona
Gilbert Water Tower – September 1
Water Tower Plaza
45 W Page Ave
Gilbert, Arizona 85233
Eloy Water Tower – September 13
226 N. Main Street
Eloy, Arizona 85131
California
The M – September 1-2
Box Springs Mountain Rd
Moreno Valley, CA 92557
Connecticut
Hartford Times Building at UConn -September 1
10 Prospect Street
Hartford, CT 06103
*lighting from dusk to 12pm
Wilbur Cross Building -September 1
233 Glenbrook Road
Storrs, CT 06269
*lighting from dusk to 12pm
Delaware
Dover Downs Hotel and Casino – September 1-2
1131 N Dupont Hwy
Dover, DE 19901
Florida
Coral Gables City Hall – September 1
405 Biltmore Way
Coral Gables, FL 33134
Las Olas City Centre – September 1
401 E Las Olas Blvd
Fort Lauderdale, FL 33301
ORLANDO STARFLYER – September 1
8265 International Dr
Orlando, FL 32819
*lighting from 8pm – 2am
Palm Beach County Convention Center – September 1
650 Okeechobee Blvd
West Palm Beach, FL 33401
*lighting from 7pm – 6am
Phillip and Patricia Frost Museum of Science – September 1
1101 Biscayne Blvd.
Miami, FL 33132
*lighting from 8pm – 6am
St. Cloud Lakefront Park – September 1
1104 Lakeshore Blvd.2
St. Cloud, FL 347692
*lighting from 7m – 6am EST
Georgia
Concourse Office Park – King & Queen Towers – September 1
5 Concourse Pkwy
Atlanta, GA 30328
1180 Peachtree – September 1
1180 Peachtree St NE
Atlanta, GA 30309
*lighting from 7pm – 7am
Iowa
Alliant Energy Tower – September 1
2nd Ave SE
Cedar Rapids, IA 52401
Norbert F. Beckey Bridge – September 1
IA-92
Muscatine, IA 52761
Prairie Meadows Casino, Racetrack, & Hotel – September 1
1 Prairie Meadows Dr
Altoona, IA 50009
City of Davenport Skybridge – September 26- October 2
W. River Drive (141-199)
Davenport, IA 52801
Illinois
875 North Michigan Avenue – September 1
875 N Michigan Avenue
Chicago, IL 60606
*lighting from 7:30pm – 11:00pm
Willis Tower – September 1
233 South Wacker Drive
Chicago, IL 60606
Wrigley Building – September 1
410 N Michigan Ave
Chicago, IL 60611-4213
Indiana
Indianapolis Artsgarden – September 1
110 W Washington St
Indianapolis, IN 46204
Old Courthouse of Vanderburgh County – September 1
201 Northwest 4th Street
Evansville, IL 47708
Kansas
Flint Hills Discovery Center – September 1
315 S. 3rd Street
Manhattan, KS 66502
Kentucky
Churchill Downs Spires – September 1-2
700 Central Avenue
Louisville, KY 40208
*lighting from 7pm – 5am
Helix Garage – September 1-2
150 W Main St
Lexington, KY 40507
Louisiana
Louisiana
Caesars Superdome – September 1-2
1500 Sugar Bowl Dr
New Orleans, LA 70112
New Orleans Jazz Museum – September 1-2
400 Esplanade Avenue
New Orleans, LA 70116
Shreveport Regional Airport – September 1-2
5103 Hollywood Ave
Shreveport, LA 71109
*lighting from 7pm – 7am
Maryland
Baltimore City Hall – September 2
100 N. Holliday St
Baltimore, MD 21202
*lighting from 8pm – 12am
Massachusetts
Boston City Hall – September 1
1 City Hall Sq
Boston, MA 02201
Medford City Hall – September 1-2
85 George P. Hassett Dr
Medford, MA 02155
*lighting from 8pm – 6am
Fore River Bridge – September 4
Fore River
Weymouth, MA 02191
Kenneth F. Burns Memorial Bridge – September 4
Boston Worcester Turnpike
Worcester, MA 02191
Leonard P. Zakim Bunker Hill Memorial Bridge – September 4
1-93
Boston, MA 02114
Longfellow Bridge – September 4
Span of Charles River
Boston, MA 02114
Michigan
Ally Detroit Center -September 1
500 Woodward Ave
Detroit, Michigan 48226
Federal Reserve Building -September 1
160 West Fort Street
Detroit, Michigan 48226
Fifth Third Bank at One Woodward -September 1
1 Woodward Ave
Detroit, Michigan 48226
One Campus Martius -September 1
1000 Woodward Ave
Detroit, Michigan 48226
The Press / 321 -September 1
321 W Lafayette Blvd
Detroit, Michigan 48226
The Stott -September 1
1150 Griswold St
Detroit, Michigan 48226
The Z -September 1
1234 Library St
Detroit, Michigan 48226
Minnesota
Granite Falls Walking Bridge – September 1
Spans the Minnesota River, connecting downtown Granite Falls to Rice Park
Granite Falls, MN
IDS Center – September 1
80 South Eighth Street
Minneapolis, MN 55402-2113
Lowry Ave Bridge – September 1
Lowry Ave
Minneapolis, MN 55418
Capella Tower – September 1-2
225 South Sixth Street
Minneapolis, MN 55402
France Ave – September 1-2
Edina, MN 55424
i-35W St. Anthony Falls Bridge – September 2
Spanning the Mississippi River in Minneapolis
Minneapolis, MN 55402
*lighting from Sunset to 1/2 hour after Sunrise
Sperry Tower – September 2
1420 Towerview Road
Eagan, MN 55122
Missouri
Power & Light Luxury Apartment Buildings – September 1
1320 Baltimore Ave
Kansas City, MO 64105-1910
Seahorse Fountain – September 1
Mayer Circle & Ward Parkway
Kansas City, MO 64105-1910
*lighting from 6pm – 11pm
Waldo Water Tower – September 1
75th & Holmes
Kansas City, MO 64114
*lighting from 6am – 11pm
James S. McDonnell Planetarium/ St. Louis Science Center – September 3
5050 Oakland Avenue
St. Louis, MO 63110
*lighting from 8pm – 10pm
Nebraska
Bob Kerrey Pedestrian Bridge – September 1
705 Riverfront Drive
Omaha, NE, 68102
Nevada
One Summerlin Office Tower – September 1
1980 Festival Plaza Dr
Las Vegas, Nevada 89135
*lighting from Sunset to Sunrise
Las Vegas City Hall – September 1
495 S. Main St
Las Vegas, NV 89101
*lighting from 7:30pm – 6am
Las Vegas Eiffel Tower and High Roller – September 1
3535 Las Vegas Blvd. South
Las Vegas Nevada 89109
*lighting from 7pm – 6am
New York
Buffalo & Erie County Public Library – September 1
1 Lafayette Square
Buffalo, NY 14203
Babylon Town Hall – September 1
200 E Sunrise Hwy
Lindenhurst, NY 11757
Gotham Hall – September 1
1356 Broadway
New York, NY
*lighting from 8am-12pm
NYSE- September 1-2
11 Wall St
New York, NY 10005
*lighting from 8pm
One Bryant Park- September 1-2
1 Bryant Park
New York, NY 10036
*lighting from 7:28pm – 2am
One Five One West 42 – September 1-2
151 West 42nd St
New York, NY 10036
*lighting from 7:28pm – 2am
One Manhattan West – September 1
395 9th Ave
New York, NY 10001
*lighting from 7:45pm – 11pm
One World Trade – September 1-2
285 Fulton St
New York, NY 10007-0089
*lighting from 7:28pm – 2am
One WTC Podium – September 1-2
285 Fulton St
New York, NY 10007-0089
*lighting from 7:28pm – 2am
Rundel Memorial Library – September 1
115 South Avenue
Rochester, NY 14604
*lighting from 8PM – 5AM
Strong Memorial Hospital – University of Rochester Medical Center – September 1
601 Elmwood Ave
Rochester, NY 14642
Sven LIC- September 1-2
29-59 Northern Boulevard
Long Island City, NY 11101
*lighting from 7:28pm – 2am
Syracuse City Hall – September 1-2
233 East Washington Street
Syracuse, NY 13202
*lighting from 7pm- 6:30am
Yonkers City Hall Clock Tower – September 1-2
40 S Broadway
Yonkers, New York 10701
*lighting 7pm-6:30am
Peace Bridge – September 2-3
1 Peace Bridge Plaza
Buffalo, NY 14213
*lighting from dusk- 1am
Security Mutual Life Building – September 15
100 Court St
Binghamton, NY 13901
Iconic Helmsley Building – September 16
230 Park Ave
New York, NY 10169-0005
*lighting from 9pm – 1am
North Carolina
North Carolina Executive Mansion – September 1-5
210 N. Blount St.
Raleigh, NC
*lighting from Sunset on 9/1 to Dusk 9/5
Ohio
Cincinnati Sign – September 1
525 Elm Street
Cincinnati, OH 45202
*lighting from 12am – 11:59pm
University East Building at University Circle – September 1
11328 Euclid Avenue
Cleveland, OH 44106
Cincinnati Union Terminal Cincinnati Museum Center – September 1-2
1301 Western Avenue
Cincinnati, Ohio 45203
*lighting from 7pm – 7am
Summit Park Observation Tower – September 1-2
4335 Glendale Milford Rd
Blue Ash, OH 45242
*lighting from 8:30pm – 7am
Hilton Columbus Downtown – September 1-2
401 North High Street
Columbus, OH 43215
*lighting from 8pm – 6am
Terminal Tower – September 1-2
50 Public Square
Cleveland, OH
*lighting from 8pm – 6am
Oklahoma
Skydance Bridge – September 2-3
Oklahoma City, OK 73109
Oregon
Union Street Railroad Bridge – August 31 and September 1
100 Union Street NE
Salem, OR 97301
Oregon Convention Center – September 1-2
777 NE Martin Luther King, Jr. Blvd
Portland, OR 97232
*lighting from dusk to dawn
Pennsylvania
David L. Lawrence Convention Center – September 1
1000 Fort Duquesne Blvd
Pittsburgh, PA 15222
*lighting from 9am – 11:59pm
Gulf Tower – September 1
707 Grant Street
Pittsburgh, PA 15219
*lighting from 8pm – 6am
The Koppers Building – September 1
436 Seventh Avenue
Pittsburgh, PA 15219
One Liberty Place & 2 Liberty Place – September 1
1650 Market Street & 50 S. 16th Street
Philadelphia, PA 19102
One Oxford Centre – September 1
301 Grant St.
Pittsburgh, PA 15219
PECO Main Office Building (Crown Lights)- September 2-3
2301 Market Street
Philadelphia, PA 19103
Cira Centre – September 13
2929 Arch Street
Philadelphia PA 19104
Cira South Garage – September 13
2929 Arch Street
Philadelphia PA 19104
FMC Tower at Cira Centre South – September 13
2929 Walnut Street
Philadelphia PA 19104
Lincoln Financial Field – September 23
1 Lincoln Financial Field Way
Philadelphia PA 19148
Rhode Island
Sakonnet River Bridge – September 1
1110 N. Ocean Blvd
Portsmouth, RI 02871
South Carolina
Sky Wheel Myrtle Beach – September 1
1110 N Ocean Blvd.
Myrtle Beach, SC 29579
*lighting from 7:30PM – 11:15PM
South Dakota
Main Street Square – September 1
512 Main St.
Rapid City, SD
Tennessee
The Block – September 1-2
219 Broad St.
Chattanooga, TN 37402
*lighting from 7pm – 6am
Texas
Bank of America Plaza- September 1
901 Main St
Dallas, TX 75202-3707
*lighting from 7am – 7pm
Alamo Quarry Market Smokestacks – September 1
255 East Basse Road, Suite 400
San Antonio, TX 98209
*lighting from 6pm – 6am
Downtown El Paso & Railroad Arches – September 1
Downtown El Paso
El Paso, TX
McCall Plaza – September 1-2
995 E 15th Street
Plano, TX 75074
*lighting from sunset – 2am
Virginia
Virginia Aquarium & Marine Science Center – September 1-2
717 General Booth Blvd
Virginia Beach, VA 23451
Washington
Seattle Convention Center September 16
705 Pike St
Seattle, WA 98101
*lighting from dusk-dawn
Wisconsin
Milwaukee County Historical Society – September 1
910 N Dr. Martin Luther King Jr. Dr
Milwaukee, Wisconsin 53203
*lighting from 10am – 10am
Halos – Mitchell Park Domes – September 1-2
524 S. Layton Blvd
Milwaukee, Wisconsin 53215
*lighting from 8am – 12am
Pfister Hotel- September 1-2
424 East Wisconsin Ave
Milwaukee, WI 53202
Wyoming
Marian H. Rochelle Gateway Center – September 1-2
222 S 22nd St
Laramie, WY 82070
*lighting from 5pm – 6am
LIGHTING EVENT SUBMISSION FORM