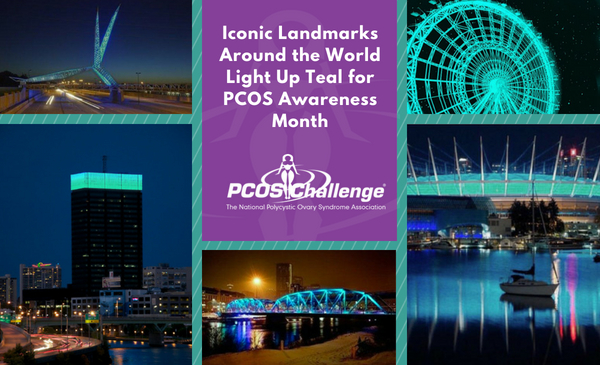 Australia | Austria | Canada | Estonia | Ireland | Scotland | Spain | Taiwan | United Kingdom | USA
During PCOS Awareness Month in September 2021, iconic landmarks and buildings throughout the world will be illuminated teal to bring greater awareness to Polycystic Ovary Syndrome (PCOS). We encourage everyone who is near a landmark that is turning teal to gather for the event, take photos and share them on social media.
Hash Tags:   #PCOS   #TurnItTeal   #WorldPCOSDay   #CysterUnited   #PCOSChallenge
*All lighting events happen at sunset unless otherwise noted below.
Australia
Newcastle City Hall – September 1-2
290 King St
Newcastle, NSW 2300
*lighting from 6pm – 8am
Adelaide Oval Stadium – September 2-3
War Memorial Dr
Adelaide, SA 5006
*lighting from 6pm – 7am
Swan Bell Tower – September 2
Barrack Square, Riverside Dr
Perth, WA 6000
Bolte Bridge – September 15
Melbourne, VIC
Gateway Motor Bridge – September 15
Brisbane, QLD
Austria
Upper Austria
Lentos Kunstmuseum Linzt – September 1
Ernst-Koref-Promenade 1
4020 Linz
*lighting from 8pm – 12am
Vienna
Danube Tower – September 1
Donauturmstrasse 4
1220 Vienna
*lighting from 8pm – 12am
Bosnia
Avaz Twist Tower – September 1-2
Tešanjska 24A
Sarajevo, Bosnia & Herzegovina, Bosnia 71000
*lighting 8:00 PM to 6:00 AM
Canada
Alberta
Arts Commons – September 2
205 8 Ave SE
Calgary, Alberta T2G 0K9
High Level Bridge Edmonton – September 12
Edmonton, Alberta
British Columbia
City Hall in Maple Ridge – September 1
11995 Haney Place
Maple Ridge, BC V2X 6A9
Fountain at Lafarge Lake – September 1
Coquitlam Centre Shopping Mall
Town Centre Park
Port Coquitlam, BC V3C 2A8
Light Columns and SkyTrain Guideway Pillars – September 1
PineTree Way
Port Coquitlam, BC V3C 2A8
Vancouver Convention Centre – September 1
1055 Canada Pl
Vancouver, BC V6C 0C3
Port Coquitlam City Hall – September 2
2580 Shaughnessy Street
Port Coquitlam, BC V3C 2A8
Vancouver City Hall – September 3
453 West 12th Ave
Vancouver, BC V5Y 1V4
*lighting begins at 9pm
Burrard Street Bridge – September 3
Vancouver, BC
Calgary
Olympic Park – September 2
228 8 Ave. S.E.
Calgary, AB
Ontario
Brant St. Pier – September 1
Spencer Smith Park
Burlington, Ontario
*lighting from 7:30pm – 12am
Port Credit Lighthouse – September 1-2
105 Lakeshore Rd W
Mississauga, Ontario L5H 1E9
*lighting from 3pm – 8am
CN Tower – September 1
301 Front St W
Toronto, ON M5V 2T6
JA Taylor Building at Wellington and Dundas – September 2
267, Dundas Street
London, Ontario
London City Hall – September 2
300 Dufferin Ave
London, Ontario N6B 1Z2
195 Dufferin Avenue – September 2
195 Dufferin Ave
London, Ontario N6B 1Z2
RBC Place London – September 2
300 York St
London, Ontario N6B 1P8
*lighting from 8pm – 12am
HAMILTON Signature Sign – September 3-4
71 Main St W
Hamilton, Ontario L8P 4Y5
*lighting from 7pm – 8am
Estonia
Tallinn TV Tower – September 1
Kloostrimetsa tee 58 A
11913 Tallinn
Ireland
Dublin
National Concert Hall – September 1
Earlsfort Terrace
Dublin
Dublin 2
D02
Leinster
Convention Centre Dublin – September 1
Spencer Dock
North Wall Quay
Dublin 1
D01 T1W6
Kilkenny
Kilkenny Castle – September 1-2
Kilkenny City
Kilkenny
R95K6P5
*lighting from 8:3pm – 2am
Scotland
Mackay's Hotel – September 1-2
Union St.
Wick, Caithness, KW1 5ED
*lighting from 12am – 12pm
Atlantic Quay – September 8
5 Atlantic Quay
150 Broomielaw
Glasgow, G2 8LU
Saughton House – September 8
Edinburgh
EH11 3XD
St. Andrews House – September 8
Regent Road
Edinburgh
EH1 3DG
Victoria Quay – September 8
Edinburgh
EH6 6QQ
Spain
Ayuntamiento de Valéncia – September 6-7
Plaza Ayuntamiento, 1
Valéncia, Spain 46002
*lighting from 8pm – 7am
Porta de la Mar – September 6-7
C/ Transits, 4
Valéncia, Spain 46002
*lighting from 8pm – 7am
Taiwan
Farglory Financial Center- September 1
No.1, Songgao Rd., Xinyi Dist.
Taipei City, Taiwan 110
*lighting from 7pm – 10pm
United Kingdom
City Hall Clock Tower – September 1
Centenary Square
Bradford, West Yorkshire, BD1 1HY
Forster Arches – September 1
96 City Rd
Bradford, West Yorkshire, BD1 1HY
Margaret McMillan Tower – September 1
Princes Way
Bradford, West Yorkshire, BD1 1NN
Royal Border Bridge – September 1
River Tweed, Near the Castle and Station
Berwick-Upon-Tweed, Northumberland
United States
Alabama | Alaska | Arizona | Arkansas | California | Colorado | Connecticut | Florida | Georgia | Illinois | Iowa | Kansas | Kentucky | Massachusetts | Minnesota | Missouri | Nevada | New Jersey | New York | North Carolina | Ohio | Oregon | Pennsylvania | South Dakota | Tennessee | Texas | Virginia | Washington | Wisconsin | Wyoming
Alabama
Regions Field (Birmingham Barons) – September 1-2
1401 1st Ave South
Birmingham, AL 35233
*lighting from 10am – 10am
RSA Buildings in Montgomery & Mobile – September 1
Mobile, AL
*exact locations to be announced at a later date
RSA Buildings in Montgomery – September 1
Montgomery, AL
*exact locations to be announced at a later date
Alaska
JL Tower – September 1
3800 Centerpoint Dr
Anchorage, Alaska 99503
Arizona
Coolidge Water Tower – September 1-2
125 E Northern Ave
Coolidge, Arizona 85128
*lighting from 7pm – 8am
Gilbert Water Tower – September 1
Water Tower Plaza
45 W Page Ave
Gilbert, Arizona 85233
Arkansas
Big Dam Bridge – September 1
7600 Rebsamen Park Rd
Little Rock, Arkansas 72201
Two Rivers Park Bridge – September 1
Little Rock, Arkansas 72201
Union Plaza Building – September 2-3
124 West Capitol Avenue
Little Rock, Arkansas 72201
California
140 New Montgomery – September 1-2
140 New Montgomery Street
San Francisco, CA 94105
*lighting from 10pm – 4am
San Diego Convention Center – September 6
111 W Harbor Dr
San Diego, CA 92101
*lighting from 7pm – 11pm
Colorado
Boulder County Courthouse – September 1-2
1325 Pearl Street
Boulder, CO 80302
*lighting from 7:30pm – 6am
Connecticut
Chase Building – September 1-2
236 Grand Street
Waterbury, CT 06702
*lighting from 6pm – 6am
Waterbury City Hall – September 1-2
235 Grand Street
Waterbury, CT 06702
*lighting from 6pm – 6am
Florida
Amway Center Spire – September 1
400 W Church St
Orlando, FL 32801
Astrogenesis II – September 1
S. Orange Ave. and Church St.
Orlando, FL 32801
Bank of America – September 1
401 E Las Olas Blvd
Fort Lauderdale, FL 33301
Cedar of Lebanon – September 1
Central Blvd. at Lake Eola Park
Orlando, FL 32801
Colonial Drive Overpass – September 1
Colonial Drive
Orlando, FL 32801
Global Convergence – September 1
Central Blvd. and Magnolia Ave.
Orlando, FL 32801
Lake Eola Park – September 1
Lake Eola Park
Orlando, FL 32801
Miami Tower – September 1-2
100 SE 2nd St
Miami, FL 33131
ORLANDO sign – September 1
Camping World Stadium
Rio Grande Ave and W Church St.
Orlando, FL 32805
Palm Beach County Convention Center – September 1-2
650 Okeechobee Blvd
West Palm Beach, FL 33401
*lighting from 7pm – 6am
Take Flight – September 1
Robinson St. at Lake Eola Park
Orlando, FL 32801
Tower of Light – September 1
City Hall Plaza
400 S Orange Ave
Orlando, FL 32801
Union – September 1
Robinson St. and Eola Dr. at Lake Eola Park
Orlando, FL 32801
200 S. Orange Avenue – September 1-2
200 S. Orange Avenue
Orlando, FL 32801
*lighting from 8pm – 6am
Georgia
Concourse Office Park – King & Queen Towers – September 1
5 Concourse Pkwy
Atlanta, GA 30328
1180 Peachtree- September 1-2
1180 Peachtree Street NE
Atlanta, GA 30309
*lighting from 8pm – 6am
Illinois
875 N Michigan Ave – September 1
875 N Michigan Ave
Chicago, IL 60611, United States
*lighting from 7pm – 11pm
Iowa
Prairie Meadows Casino, Racetrack, & Hotel – September 1
1 Prairie Meadows Dr
Altoona, IA 50009, United States
Kansas
Flint Hills Discovery Center – September 1
315 S. 3rd Street
Manhattan, KS 66502
Overland Park Convention Center – September 1
6000 College Boulevard
Overland Park, KS 66211
Kentucky
Churchill Downs – September 1-2
700 Central Ave
Louisville, KY 40208
*lighting from 6pm – 5am
Massachusetts
Boston City Hall – September 1
1 City Hall Sq
Boston, MA 02201
Fore River Bridge – September 1
Fore River
Weymouth, MA 02191
Kenneth F. Burns Memorial Bridge – September 1
Boston Worcester Turnpike
Worcester, MA 02191
Leonard P. Zakim Bunker Hill Memorial Bridge – September 1
1-93
Boston, MA 02114
Longfellow Bridge – September 1
Boston, MA 02114
Medford City Hall – September 1-2
85 George P Hassett DriveI-93
Medford, MA 02114
*lighting from 6:30pm – 5am
Minnesota
Capella Tower – September 1-2
225 South Sixth Street
Minneapolis, MN 55402
*lighting from 6pm – 6am
France Ave – September 1-2
Edina, MN 55424
IDS Center – September 1
80 South Eighth Street
Minneapolis, MN 55402-2113
*lighting from 9pm – 11:50pm
Lowry Ave Bridge – September 1-2
Lowry Ave
Minneapolis, MN 55418
*lighting from 6pm – 6am
Minneapolis Convention Center – September 1-2
1301 2nd Ave S
Minneapolis, MN 55404
*lighting from 7:30pm – 6:30am
i-35W St. Anthony Falls Bridge – September 12
Minneapolis, MN 55402
Missouri
Country Club Plaza Giralda Tower – September 1
4706 Broadway, Ste 260
Kansas City, MO 64111
Kansas City Power and Light Building – September 1
1330 Baltimore Ave
Kansas, MO 64105-1910
Waldo Water Tower – September 1-2
75th & Holmes
Kansas City, MO 64114
*lighting from 6pm – 5am
Nevada
Las Vegas City Hall – September 1-2
495 S. Main St
Las Vegas, NV 89101
*lighting from 8pm – 5am
New Jersey
Trenton Makes The World Takes sign – September 1
Lower Trenton Toll Supported Bridge
Trenton, NJ 08608
*lighting from sunset – 11pm
New York
Babylon Town Hall – September 1
200 E Sunrise Highway
Lindenhurst, NY 11757
*lighting from 7pm – 5am
Barclay's Center – September 1
620 Atlantic Ave
Brooklyn, NY 11217
Joseph A. Floreano Rochester Riverside Convention Center – September 1
123 E. Main St
Rochester, NY 14604
Legacy Tower – September 1
1 Bausch and Lomb Pl
Rochester, NY 14604
Metropolitan and Innovation Square – September 1
100 Clinton Avenue South
Rochester, NY 14604
NYSE – September 1-2
11 Wall St
New York, NY 10005
*lighting from 7PM – 6AM
One Bryant Park – September 1
1 Bryant Park
New York, NY 10036
151 West 42 – September 1
151 West 42nd Street
New York, NY 10036
One World Trade Center – September 1
285 Fulton St
New York, NY 10007
Rundel Memorial Library – September 1
115 South Avenue
Rochester, NY 14604
Seneca One – September 1
1 Seneca St
Buffalo, NY 14203
Syracuse City Hall – September 1-2
233 East Washington Street
Syracuse, NY 13202
3 City Center – September 1
180 South Clinton Ave
Rochester, NY 14604
The Bachelor Forum – September 1
670 University Avenue
Rochester, NY 14604
The Metropolitan Rochester – September 1
One South Clinton Avenue
Rochester, NY 14604
The Nathaniel – September 1
102 Court St
Rochester, NY 14604
The Penthouse at One East Avenue – September 1
One East Avenue
Rochester, NY 14604
Tower280 at Midtown – September 1-2
280 East Broad Street
Rochester, NY 14604
*lighting from 7pm – 6am
University of Rochester Medical Center – September 1
601 Elmwood Ave,
Rochester, NY 14642
Iconic Helmsley Building at 230 Park Ave – September 2-3
230 Park Ave
New York, NY 10169-0005
Peace Bridge – September 2-3
1 Peace Bridge Plaza
Buffalo, NY 14213
North Carolina
NASCAR Hall of Fame – September 1
400 E Martin Luther King Blvd
Charlotte, NC 28202
Romare Bearden Park – September 1
300 S. Church St
Charlotte, NC 28202
Ohio
Hilton Columbus Downtown – September 1-2
401 North High Street
Columbus, OH 43215
*lighting from 7pm – 7am
Oregon
Union Street Railroad Bridge – August 31 – September 1
Salem, OR
Pennsylvania
Beer 4 Less and Pop – September 1
210 Cascade Galleria
New Castle, PA 16101
Boathouse Row – September 1-2
1 Boathouse Row
Philadelphia, PA 19130
*lighting from 7pm – 6am
Cira Centre – September 1
30th and Arch Streets
Philadelphia, PA 19104
Cira South Garage – September 1
129 South 30th Street
Philadelphia, PA 19104
David L. Lawrence Convention Center – September 1
1000 Fort Duquesne Blvd
Pittsburgh, PA 15222
*lighting from 10am – 10pm
Fifth Avenue Place/Highmark Building – September 1
120 Fifth Ave
Pittsburgh, PA 15222
FMC Tower – September 1
2929 Walnut Street
Philadelphia, PA 19104
Gulf Tower – September 1-2
707 Grant St.
Pittsburgh, PA 15219
*lighting from sunset to 3am
The Koppers Building – September 1-2
436 Seventh Avenue
Pittsburgh, PA 15219
*lighting from sunset to 3am
One Liberty Place & 2 Liberty Place – September 1
50 South 16th Street, Suite 2650
Philadelphia, PA 19102
One Oxford Centre – September 1
301 Grant St.
Pittsburgh, PA 15219
PECO Crown Lights – September 1
2301 Market Street
Philadelphia, PA 19103
Pennsylvania Convention Center – September 1-2
153 N. Broad St.
Philadelphia, PA 19107
*lighting from 7pm – 7am
South Dakota
Main Street Square – September 2
512 Main St. Ste 980
Rapid City, SD 57701
Tennessee
Great Smoky Mountain Observation Wheel – September 1
131 The Island Dr.
Pigeon Forge, TN 37863
*lighting from 12pm – 12am
The Block – September 1-2
219 Broad St.
Chattanooga, TN 37411
*lighting from 7pm – 6am
Texas
Alamo Quarry Market Smokestacks – September 1-2
255 East Basse Road, Suite 400
San Antonio, TX 98209
*lighting from 6pm – 6am
Houston City Hall – September 20-22
901 Bagby St
Houston, TX 77002
Mesquite City Hall Towers – September 1-2
1515 North Galloway Ave
Mesquite, TX 75149
*lighting from 7pm – 6am
Virginia
Science Museum of Virginia – September 1-2
2500 West Broad Street
Richmond, VA 23220-2057
*lighting from 8pm – 7am
Virginia Aquarium & Marine Science Center – September 1
717 General Booth Blvd
Virginia Beach, VA 23451
Washington
Columbia Center and Observatory – September 1
700 4th Ave
Floor 73
Seattle, WA 98104
Washington State Convention Center – September 1-2
705 Pike Street
Seattle, WA 98101
*lighting from 7pm – 6am
Wisconsin
Pfister Hotel- September 1
424 East Wisconsin Ave
Milwaukee, WI 53202
Wyoming
Marian H. Rochelle Gateway Center- September 1-2
222 S 22nd St
Laramie, WY 82070
*lighting from 5pm – 6am