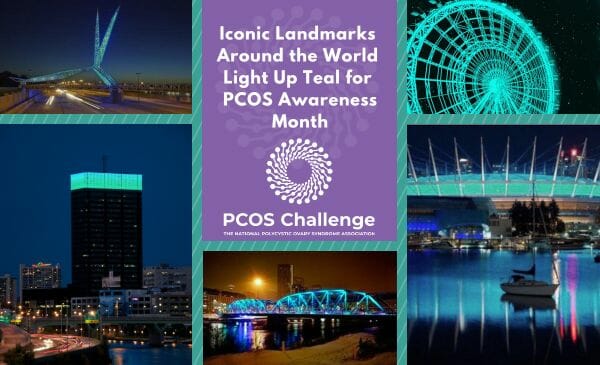 During PCOS Awareness Month in September 2023, iconic landmarks and buildings throughout the world will be illuminated teal to bring greater awareness to Polycystic Ovary Syndrome (PCOS). We encourage everyone who is near a landmark that is turning teal to gather for the event, take photos and share them on social media.

Australia | Bosnia | Canada | Cayman Islands | Czechia | Estonia | Finland | Greece | Iceland | Ireland | Italy | Malaysia |
New Zealand | North Ireland | Romania |  Scotland | United Kingdom | USA
*All lighting events happen at sunset unless otherwise noted below.
Australia
Australia Capital Territory
Questacon – The National Science and Technology Centre – September 2
King Edward Terrace, Parkes
Canberra, ACT 2604
Telstra Tower – September 10
100 Black Mountain Dr.
Acton, ACT 2601
Northern Territory
Palmerston Water Tower – September 1
3 Woolnough Pl.
Palmerston City, Northern Territory 830
France Drive Light Pole – September 1
France Ave.
Palmerston City, Northern Territory 830
Palmerston Memorial Park Light Poles – September 1
23 University Ave.
Palmerston City, Northern Territory 830
Palmerston Recreation Centre – September 1
11 The Blvd.
Palmerston City, Northern Territory 830
Queensland
Multiplex Fig Tree Lights – September 12-14
1 Pyefinch BVD (Corner of Pyefinch BVD and Walker Street)
Bundaberg, QLD 4670
Court House Gallery – September 24
38 Abbott St
Cairns, QLD 4870
*lighting from 6pm – 11:59pm
South Australia
Adelaide Oval – September 6
War Memorial Drive
Adelaide, SA 5006
Victoria
AAMI Park – September 3
Olympic Boulevard
Melbourne, VIC
Bolte Bridge and CityLink Sound Tube – September 5
Citylink
Docklands, VIC 3008
Western Australia
Perth Concert Hall – September 2
5 St Georges Terrace
Perth, WA 6000
*lighting from sunset-1am
The Bell Tower, Perth – September 2-3
Barrack Square, Riverside Dr
Perth, WA 6000
*lighting from 7pm-6am
Bosnia
Avaz Twist Tower – September 1-2
Tešanjska 24A
Sarajevo, Bosnia & Herzegovina, Bosnia 71000
*lighting 8pm-5am
Canada
Alberta
Arts Commons – September 1
205 8th Ave SE
Calgary, Alberta T2G 0K9
Sylvan Lake Lighthouse – September 2
Lakeshore Drive
Sylvan Lake, Alberta T4S
Lethbridge City Hall – September 3
910-4th Avenue South
Lethbridge, Alberta T1J 0P6
Olympic Plaza – September 8
228 8 Ave SW
Calgary, Alberta T2P 2M5
British Columbia
Burrard St Bridge – September 1
Burrard St
Vancouver, BC V5Y 1V4
Victoria Street Bridge – September 1
Columbia River
Trail, BC V1R 4E6
Vancouver City Hall – September 1
453 West 12th Ave
Vancouver, BC V5Y 1V4
Vancouver Convention Centre- September 1
1055 Canada Pl
Vancouver, BC V6C 0C3
Science World – September 2
1455 Quebec St.
Vancouver, BC V6A 3Z7
Vancouver Lookout Tower – September 2
555 West Hastings Street
Vancouver, BC V6B 4N6
BC Place – September 3
777 Pacific Blvd
Vancouver, BC V6B 4Y8
Canada Place Sails of Light – September 3
999 Canada Pl
Vancouver, BC V6C 3E1
Avenir Center- September 5
150 Canada Street
Moncton, New Brunswick E1C 0V2
*lighting from 9am-9am
Manitoba
Winnipeg Sign at the Forks – September 1
Forks Market
Winnipeg, MB R3C4X1
Esplanade Riel Bridge – September 1
Red River
Winnipeg, MB

Ontario
Niagara Falls- September 1
6650 7400 Portage Road
Niagara Falls, Ontario L2E 6T2
*lighting from 10:30pm-10:45pm
Watch the Live Cam: https://www.earthcam.com/canada/niagarafalls/?cam=niagarafalls_str
3D Toronto Sign – September 1
100 Queen St W
Toronto, Ontario M5H 2N2
CN Tower – September 3
290 Bremner Blvd,
Toronto, Ontario M5V 3L9
Newmarket Riverwalk Commons & Fred A. Lundy Bridge – September 6
Water St
Newmarket, ON L3Y 3X1
London City Hall – September 14
300 Dufferin Ave
London, Ontario N6B 1Z2
RBC Place – September 25-28
300 York St
London, ON N6B 1P8
J. Allyn Taylor Building – September 25-28
267 Dundas St
London, ON N6A 1H2
Cayman Islands
Grand Cayman
Camana Bay – September 1-30
89 Nexus Way, Camana Bay,
Grand Cayman, Cayman Islands KY1-9006
*lighting 6pm-6am
Czechia
Petřín Lookout Tower (Petřínská rozhledna) – September 1
Petřínské Sady 633 Prague
Prague, Czechia 118 00
*lighting 7:45pm-6:20am
Estonia
SA Tallinna Teletorn – September 1
Kloostrimetsa tee 58a
Tallinn, Harju maakond 11913
*lighting from 8pm-6am
Finland
SkyWheel Helsinki Oy – September 1
Katajanokanlaituri 2
Helsinki 00160
*lighting 6pm-6am
Greece
Omonoia Square Fountain – September 1
Omonoia Square
Athens, 105 52
Iceland
Perlan – September 1
Varmahlid 1
105 Reykjavík, Iceland
Ireland
Leinster
Convention Centre Dublin – September 1
Spencer Dock
North Wall Quay
Dublin 1 D01 T1W6
Limerick City Hall – September 1
Merchants Qua
King Island, Limerick V94
Dublin Mansion House – September 1
Dawson Street
Dublin 2 D02 AF30
*lighting from 7pm-12am
Italy
Memoria e Luce – September 13
15 Via Giotto
Padua, Italy 35137
Malaysia
Kuantan 188 – September 1
Jalan Besar
Kuantan, Pahang 25000
New Zealand
Oamaru Opera House – September 1
90 Thames Street
Oamaru, South Island 9400
North Ireland
Fermanagh
Enniskillen Castle – September 2
Fermanagh County Museum, Enniskillen Castle, Enniskillen, Co.
Enniskillen, Fermanagh BT74 7HL
Tyrone
Strule Arts Center – September 2
Townhall Square
Omagh, Tyrone BT78 1BL
Derry
Causeway Coast & Glens Borough Council Offices – September 4
Cloonavin, 66 Portstewart Road
Colerain, Derry BT52 1EY
Romania
SkyTower Bucharest – September 1
Calea Floreasca 246C
Bucharest 014476
Scotland
Edinburgh Castle – September 16
Castlehill, Crown Square
Edinburgh EH1 2NG
United Kingdom
Lytham Windmill – September 1
Lytham Green East Beach
Lytham, Lancashire FY8 5LD
Keel Square – September 1
273 High St W
Sunderland, SR1 3
Penshaw Monument – September 1
Chester Rd, Houghton Le Spring
Sunderland, DH4 7NJ
Northern Spire Bridge – September 1
River Wear, Tyne and Wear
Sunderland, SR5 3XG
Hylton Castle – September 1
Craigavon Rd, Tyne and Wear
Sunderland, SR5 3PA
Craigavon Civic and Conference Centre – September 1
66 Lakeview Rd
Craigavon, BT64 1AL
Cliffe Park Lighthouse – September 1
Callywhite Ln
Dronfield, S18 2XP
Bradford City Hall Clock Tower – September 1
Centenary Square
Bradford, West Yorkshire, BD1 1HY
*lighting from 8pm-12am
United States
Alaska | Arizona | Arkansas | California | Connecticut | DC | Florida | Georgia | Hawaii | Idaho | Iowa | Illinois | Indiana | Louisiana | Maryland | Massachusetts | Michigan | Minnesota | Missouri | Nebraska | Nevada | New Hampshire | New Jersey| New York | Ohio | Oregon | Pennsylvania | Rhode Island | South Dakota | Tennessee | Texas | Virginia | Washington | Wisconsin | Wyoming
Alaska
JL Tower – September 1
800 Centerpoint Drive
Anchorage, Alaska 99503
*lighting from 8pm – 7am
Arizona
Gilbert Water Tower – September 1
Water Tower Plaza
45 W Page Ave
Gilbert, Arizona 85296
Eloy Water Tower – September 13
226 N. Main Street
Eloy, Arizona 85131
Arkansas
Union Plaza Building – September 2
124 W Capitol Ave.
Little Rock, AR 72201
California
The M – September 1
Box Springs Mountain Rd
Moreno Valley, CA 92557
City of Long Beach Civic Center – September 1
411 W. Ocean Blvd.
Long Beach, CA 90802
555 Mission – September 1
555 Mission St
San Francisco, CA 94105
333 Bush Street – September 1
333 Bush St
San Francisco, CA 94104
Long Beach City Hall – September 1
249 E Ocean Blvd.
Long Beach, CA 90802
San Diego Convention Center – September 2
111 Harbor Dr.
San Diego, CA 92101
Connecticut
Beehive Bridge – September 18
Connecticut Ave
New Britain, CT 06051
DC
Frederick Douglass Memorial Bridge – September 1
Washington, DC 20020
Florida
Coral Gables City Hall – September 1
405 Biltmore Way
Coral Gables, FL 33134
The Wave – Palm Beach County Convention Center – September 1
650 Okeechobee Blvd
West Palm Beach, FL 33401
*lighting from 7pm – 6am
Phillip and Patricia Frost Museum of Science – September 1
1101 Biscayne Blvd.
Miami, FL 33132
Kaseya Center – September 1
601 Biscayne Blvd
Miami, FL 33132
PGD Air Traffic Control Tower – September 1
Mooney Avenue
Punta Gorda, FL 33982
Brorein Bridge – September 1
W Brorein St
Tampa, FL 33602
Kennedy Blvd Bridge – September 1
West Kennedy Blvd
Tampa, FL 33606
Curtis Hixon Park Palm Trees & Louver Fountain – September 1
600 N Ashley Dr
Tampa, FL 33602
Fortune Street Bridge – September 1
Fortune St
Bradenton, FL 34203
Wellington Village Hall Clock Tower – September 1
12300 Forest Hill Blvd
Wellington, FL 33414
*lighting from 6pm – 7am
Georgia
Concourse King & Queen Crowns – September 1
5 Concourse Pkwy
Atlanta, GA 30328
Hawaii
IBM Building – September 1
1240 Ala Moana Blvd
Honolulu, HI 96814
Idaho
JUMP Boise – September 1
1000 W Myrtle St
Boise, ID 83702
Illinois
540 West Madison – September 1
540 West Madison
Chicago, IL 60661
Tribune Tower Residences – September 1
435 N Michigan Ave
Chicago, IL 60611
875 North Michigan Avenue – September 1
875 North Michigan Avenue
Chicago, IL 60622
*lighting from sunset-11pm
Blue Cross and Blue Shield of Illinois Building – September 1
300 E Randolph
Chicago, IL 60622
*lighting from 8:30pm-6am
Two Prudential Plaza – September 27
180 N Stetson Ave
Chicago, IL 60601
Indiana
South Bend River Lights – September 1
118 N Saint Joseph St
South Bend, IN 46601
Iowa
Norbert F. Beckey Bridge – September 4-7
IA-92 Highway
Muscatine, IA 52761
Louisiana
Caesars Superdome – September 1
1500 Sugar Bowl Dr
New Orleans, LA 70112

Shreveport Regional Airport – September 1
5103 Hollywood Ave
Shreveport, LA 71109
Maryland
Baltimore City Hall Dome – September 8
100 N. Calvert St
Baltimore, MD 21202
*lighting from 8pm – 12am
Massachusetts
Boston City Hall – September 1
1 City Hall Square
Boston, MA 02201
The Greenway Light Blades – September 1
In between Atlantic St. & India St. and Atlantic St. & Milk St.
Boston, MA 02111
Fore River Bridge – September 4
Fore River
Weymouth, MA 02191
Kenneth F. Burns Memorial Bridge – September 4
Boston Worcester Turnpike
Worcester, MA 02191
Leonard P. Zakim Bunker Hill Memorial Bridge – September 4
1-93
Boston, MA 02114
Longfellow Bridge – September 4
Span of Charles River
Boston, MA 02114
Michigan
Ally Detroit Center – September 1
500 Woodward Ave
Detroit, Michigan 48226
David Stott Building – September 1
1150 Griswold St
Detroit, Michigan 48226
Federal Reserve Building – September 1
1600 E Warren Ave
Detroit, Michigan 48226
One Woodward Building – September 1
1 Woodward Ave
Detroit, Michigan 48226
One Campus Martius – September 1
1000 Woodward Ave
Detroit, Michigan 48226
The Press – September 1
321 W Lafayette Blvd
Detroit, Michigan 48226
Z-Deck – September 1
1234 Library St
Detroit, Michigan 48226–>
Minnesota
Lowry Ave Bridge – September 1
953 County Rd 153
Minneapolis, MN 55418
France Avenue – September 8-10
Edina, MN 55439
i-35W St. Anthony Falls Bridge – September 1
Spanning the Mississippi River in Minneapolis
Minneapolis, MN 55113
Missouri
Keys to the City (Sculpture at City Hall) – September 1
701 E. Broadway
Columbia, MO 65201
Nebraska
Bob Kerrey Pedestrian Bridge – September 1
705 Riverfront Drive
Omaha, NE, 68102-4206
Nevada
Arizona St. Bistro Lights – September 1
Arizona St. from Nevada Way to Hotel Plaza
Boulder City, NV 89005
Boulder City Hall – September 12-30
401 California Ave.
Boulder City, NV 89005
New Hampshire
Manchester, NH City Hall Tower – September 1
1 City Hall Plaza
Manchester, NH 03101
*lighting from 7pm-6am
The Hotel Concord – September 1
11 South Main Street
Concord, NH 03301
*lighting from 7pm-6am
New Jersey
"Trenton Makes The World Takes" sign at the Lower Trenton Bridge – September 1
Delaware River between Trenton and Morrisville
Trenton, NJ 08601
Benjamin Franklin Bridge – September 1
Interstate 676 / US Highway 30
Camden, NJ
New York
Gotham Hall – September 1
1356 Broadway
New York, NY 10018
*lighting from 7pm-6am
One Bryant Park – September 1-2
1 Bryant Park
New York, NY 10036
One Five One – September 1-2
151 West 42nd St
New York, NY 10036
Legacy Tower – September 1
280 E Broad St
Rochester, NY 14604
Tower 280 – September 1
230 Bausch And Lomb Pl
Rochester, NY 14604
260 E. Broad – September 1
260 E Broad St
Rochester, NY 14604
Central Library of Rochester & Monroe County – September 1
115 South Avenue
Rochester, NY 14604
Sven LIC – September 1-2
29-59 Northern Boulevard
Queens, NY 11101
Peace Bridge – September 3
1 Peace Bridge Plaza
Buffalo, NY 14213
*lighting from dusk-1am
Mid-Hudson Bridge – September 5
US 44 and NY 55
Poughkeepsie, NY
Security Mutual Life Insurance Building – September 22
100 Court St
Binghamton, NY 13901
The Helmsley Building – September 1
10 Columbus Circle
New York, NY 10019
*lighting from 9pm-7am
One World Trade Center – September 1
285 Fulton St
New York, NY 10007
The Shops at Columbus Circle – September 1
230 Park Ave
New York, NY 10169
*lighting from 8:15pm-1am
Ohio
University East Building at University Circle – September 1
11328 Euclid Avenue
Cleveland, OH 44106
The Terminal Tower – September 18
50 Public Square
Cleveland, OH 44113
*lighting from 8pm – 6am
Oregon
Union Street Railroad Bridge – August 31 and September 1
100 Union Street NE
Salem, OR 97303
Oregon Convention Center – September 1
777 NE Martin Luther King, Jr. Blvd
Portland, OR 97232
Pennsylvania
Gulf Tower – September 1
707 Grant St, Ste 3200
Pittsburgh, PA 15219
Koppers Building – September 1
436 Seventh Avenue
Pittsburgh, PA 15219
Benjamin Franklin Bridge – September 1
Interstate 676
Philadelphia, PA 08104
PECO Building – September 1
2301 Market Street
Philadelphia, PA 19103
*lighting from 5pm-9am
One Liberty Place – September 1
1650 Market Street
Philadelphia, PA 19103
Pennsylvania Convention Center Broad Street Digital Ribbons – September 1
1101 Arch Street
Philadelphia, PA 19107
*graphic display from 8am-11:59pm
Rhode Island
Sakonnet River Bridge – September 1
572 Anthony Rd
Portsmouth, RI 02871
South Dakota
Main Street Square Spires – September 8
526 Main Street
Rapid City, SD 57718
*lighting from 7pm-7am
Tennessee
The Block – September 1-2
219 Broad St.
Chattanooga, TN 37402
*lighting from 8pm-6am
Henley Bridge – September 1
Henley St
Knoxville, TN 37903
Texas
Houston City Hall – September 1
901 Bagby
Houston, TX 77002
Sundance Square – September 1
420 Main Street
Ft. Worth, TX 76102-3925
Virginia
Virginia Aquarium & Marine Science Center – September 1
717 General Booth Blvd
Virginia Beach, VA 23451
Washington
Seattle Convention Center | Arch – September 6
705 Pike St
Seattle, WA 98101
*lighting from 6:45pm-7:30am
Wisconsin
Milwaukee County Historical Society – September 1
910 N Dr. Martin Luther King Jr. Dr
Milwaukee, Wisconsin 53203
*lighting from 10am-10am
Pfister Hotel – September 1
424 East Wisconsin Ave
Milwaukee, WI 53703
Madison Municipal Building – September 8
215 Martin Luther King Jr Blvd
Madison, WI 53202
Wyoming
Marian H. Rochelle Gateway Center – September 10
222 South 22nd Street
Laramie, WY 82070
*lighting from 5pm – 6am
LIGHTING EVENT SUBMISSION FORM